You will find yourself aboard more than just an attractive throwback to a long lost era of maritime travel because the Spirit of Texas is the Nation's most modern Paddlewheeler, built specifically for the waters upon Clear Lake and Galveston Bay. The nostalgia along with the romanticism of the vessel appeals to your guests and those coming from around country and world.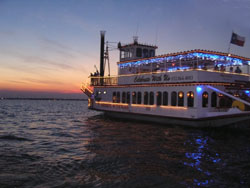 Talk about size, everything is large in Texas and we think BIG. The Spirit of Texas Paddlewheeler boasts the greatest amount of perimeter rail space of any charter boat in Kemah, Clear Lake & Galveston Bay while offering substantial room of the elegantly appointed main salon. Other vessels claiming to have size do not account for the expansive 26' beam. Additionally, the
Spirit of Texas Paddlewheeler can accommodate twice as many guests compared to other boats on its second deck. This makes possible having weddings & other celebratory events underway with out restricting half your guests to one level or another.
Amenities
The main saloon has beautifully custom crafted mahogany inlaid dining tables that perfectly accent the tailored silk drapery along with the decorative ambient lighting. Cherry wood floors, cabinetry, walls along with accented area carpeting, tile, and carpeting adorns the main saloon throughout. The main saloon features, drop presentation screens, flat screen television, wire and wireless microphones along with satellite radio, Ipod, & cd capability for your entertainment choice. Other fine amenities include, fully equipped bar, buffet, cake and gift stations.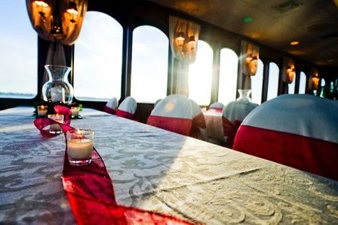 What compliments the formality of the main saloon is the casualness of the second deck providing perimeter rail space for all of your guests to enjoy the unobstructed views of Clear Lake, Galveston Bay & Kemah. The second deck has an expansive celebration area for dancing and other entertainment. Our sound system with decorative and disco lighting will BLAST you off the second deck. Our sound systems can operate separately or together for each deck providing a subdued social area in the main salon & the PARTY deck of second level or you may decide to have live bands or disc Jockeys. Not to worry, the second deck is open air and covered with drop curtains and heating for year around comfort.